Fabric > Halloween Fabric > Pumpkin Patch
From Benartex Fabrics.
Nothing says "Fall" like a pumpkin patch bursting with color. The burnt oranges, honey, greens and reds make a beautiful color story. Cheryl designed this colorful pumpkin panel and coordinates with a fun twist… a tiny black crow is mixed in with the pumpkins and sunflowers. Use the panel "as is" or cut it apart for smaller projects. The entire effect is warm and charming and is a great way to celebrate the season.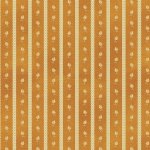 2775-28

Pumpkin Leaf Stripe - Pumpkin


Price

$ 10.59

per yard
Quantity:
yard(s)






2776-72

Acorn Dance - Natural


Price

$ 10.59

per yard
Quantity:
yard(s)