---
~Just arrived: The Caravan Collection!~
An adventure awaits! You can follow the rich colors and intricate patterns of this caravan of elephants in the wild. Palm trees and medallion prints support this thematic collection by ©Dan Morris in his signature styling. Stunning ferns and paisley tonals provide lavish color and texture.
26178-E
26179-S
26180-E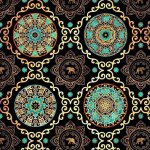 26181-E
26182-E
26182-J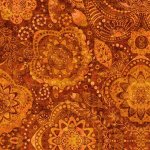 26182-S
26183-B
26183-O
26183-S
26184-E
26185-K
---
Halloween Fabric Sale!!!
Just a reminder, we're still offering

20% off

ALL Halloween fabrics and Halloween Kits.

The sale is happening now and runs through Saturday, October 28th. Don't miss it!
---
Palmerton Area Library
11th Annual Quilt Show
The Times News newspaper has an article about the upcoming show on their website which you can read by clicking
HERE
.
Date and time: Sunday, October 22nd from Noon - 4pm



Donation: $5

Sponsored by the Sew What Quilters Guild
Be sure to visit downtown Palmerton on Sunday, October 22nd for the annual quilt show where many beautiful quilts will be on display! There will also be door prizes, a basket auction and a "Best of Show" prize for the best quilt.

The Quilted Crow, which is located directly across the street from the Library, will have special Sunday hours on the 22nd and will be open from Noon until 4pm, so please be sure to stop by and say hello!

For more information about the Quilt Show or if you'd like to exhibit your own work, please contact the Palmerton Library by phone at (610)826-3424 or by email at plapalm@ptd.net
---
~Pocono Painters Raffle Tickets~
The Pocono Painters Chapter of Northeastern Pennsylvania is the local chapter of The Society of Decorative Painters. Established in 1985, the chapter offers members the opportunity to:

1. Broaden their knowledge of decorative painting through classes & seminars
2. Build new friendships
3. Become involved in community service projects,
4. Share their passion to paint with others
For more information about Pocono Painters, you can visit their website by clicking
HERE
.
Pocono Painters is currently selling raffle tickets for $1 each. You can choose to enter the drawing for one of the following 3 prizes:
A quilt with squares painted by various members...
A tree decorated with over 150 ornaments created by the membership, and...
a Hand-Painted Accent Table created by Karen Schaffert.
The drawing will be held on October 29th, 2017 and the Shop can provide information regarding how to get tickets.
---
Pictured below is an afghan which was recently brought into the shop. As you can see, the names of seven Grandchildren were already appliqued onto the afghan.

The owner of the afghan is trying to find someone who can add the names and figures for their two Great-Grandchildren to the afghan.

If you'd be interested doing this work, please call the shop at (610)900-4700 and we'll provide the contact info of the owner.


---
~15th Annual Eastern PA Shop Hop~
*****Passports are now available for $5 each!*****
This fabric collection for this year's event is Natural Beauty by Kanvas Studio. This beautiful wildflower print in a black, cream, gold, rust and green color way will make this one of the best in the history of the shop hop!

To view this year's fabric collection, click HERE.



Shown above: our Versatile Wave Purse pattern created using Natural Beauty fabrics. Kits for this purse, which include the pattern, will be available for $26.50 during the Shop Hop



Thistle Dot Wildflower wall Hanging



Potpourri Wall Hanging

Shown above are two new kits will be available during the Shop Hop.
---
More classes coming soon - watch this space!
---
Crow Sew
- The next scheduled meeting at the Crow will be on
Wednesday, October 25th at 10am.
Sewcial Guild - The next scheduled meeting will be on Thursday, October 26th, from 11am - 2pm. The guild meets in the upper floor Gallery of the Palmerton Library, across the street from the Shop. Elevator access to the upper floor is available.
Quilts of Valor
- The next scheduled meeting/sewing session at the Crow will be on Saturday, October 28th at 10am.
***As always, we'd like to remind you that groups and guilds are a great way to make new friends! If you're wondering exactly what happens at the meetings listed above, you're more than welcome to stop by and sit in with no obligation!***
---