~Just arrived: The "Stars and Stripes Forever" collection~
Designed by Dan Morris for Quilting Treasures

Patriotic prints are forever in-style and these richly colored designs beautifully commemorate America. Show your love of our country with this great patriotic collection!



(kits for the quilt shown above will be available soon!)

Click on any product number below to see a larger picture...
25999-E
25999-S
26000-E
26000-M
26000-N
26001-M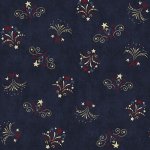 26001-N
26001-S
26002-G
26003-M
26004-B
26004-G
26005-E
26005-N
---
~Quilt for Sale~
The Daughters of Zion have hand-quilted this beautiful 88" x 106" "Welsh" pattern quilt. Sale price is only $350. Please contact the Zion UCC office at (610)377-1191 if interested.

Click on any image to view a larger version.
---
~Check out our "Customer Projects" pages~
(5 new projects added this week!)

Click the picture below to visit the most recent page or click HERE to start at Page #1.
(Leslie Rose)
If you'd like to see your finished project displayed on our website, either email your pictures to qcrow@ptd.net or simply bring it to the shop and we'll take some pictures for you!

You're also welcome to provide us a story which goes along with your project and we'd be glad to put it on our website.
Send in your pictures or stop by and show us your work today - we'd love to see it!
---
If you have questions about any of the classes below, please give us a call at (610)900-4700.

NOTE: To sign up for a class, you may either do so online or by calling the shop. Click any image below to visit the appropriate page on our site.
---
All Season Table Topper

Instructor: Anita McCartney
Learn how the 60 degree triangle ruler turns simple rectangles into stunning triangles for every season. This 23" Table Topper makes a wonderful addition for any occasion!



Date: Friday, May 12th




10:30am - 3:00pm at the Crow



Class Fee: $20 + Pattern ($9.50) + Materials
To visit the appropriate Class page on our website, click on either picture above or click HERE.
---
Tulip Table Runner

Instructor: Maryann Templin


This beautiful tulip table runner created by Maryann Templin is a great addition to any Spring decor. The finished size is 21 x 44 ½ inches and has 4 paper pieced tulips. The scallop border adds a great finishing touch!
Date: Saturday, May 13th
10:30am - 4pm
Class Fee: $35 + Pattern ($8) + Materials
To visit the appropriate Class page on our website, click on either picture above or click HERE.
---
Folded Star Squared Hot Pad

Instructor: Barb Skiffington
This easy machine sewn hot pad uses a custom interfacing template to make this class great for beginners! Barb Skiffington will teach this revolutionary new technique and demonstrate the endless design possibilities.



Date: Thursday, May 18th




10:30am - 4pm
Class Fee: $25 + Pattern ($11) + Fabric
To visit the appropriate Class page on our website, click on either picture above or click HERE.
---
Bog Jacket
In this

2 day class session

, Sharon Rehrig will teach you how to make this stunning jacket from a rectangle of fabric. Pictures on a computer or cell phone not do this jacket justice. Visit the shop to see this jacket today! Class size limited, sign up early.
Dates:
Friday, June 9th, 1pm - 5:30pm
Saturday, June 10th, 10:00am - 3:30pm
Class Fee: $60 + Fabric
To visit the appropriate Class page on our website, click on either picture above or click HERE.
---
Crow Sew - The next scheduled meeting will be on Wednesday, May 10th at 10am.

Quilts of Valor - The next scheduled meeting will be on Saturday, May 20th, at 10am. Feel free to bring your machines!

Sewcial Guild - The next scheduled meeting will be on Thursday, May 25th at 11am. The guild meets in the upper floor Gallery of the Palmerton Library, across the street from the Shop. Elevator access to the upper floor is available.
~Why you should support your local Quilt Shop~
by Leni Levenson Wiener
In this day and age, with so much commerce on the Internet, it is critical that we all support our local quilt shops. Every year, more and more of these shops are closing, and that breaks my heart. A friend who owns a shop tells me people will often come in and ask for help choosing fabrics, then write down the information on the bolt and leave—presumably to order it online. This is extremely distressing to me. And why is it so important to support your local quilt shop?

Shopping online may save you a dollar or two, but you don't get the benefit of the experienced sales people who can help you find that right fabric, offer advice when you hit a snag, or tell you how to accomplish something you haven't done before. It is the local shop where you can take a class, look through a book, or connect with other quilters.

Finding your fabrics online is not an effective way to choose fabrics and see how they work together—often the color isn't true on your monitor or you don't see that unexpected (but perfect) match in a part of the store you hadn't originally considered. Just last week I needed a fabric to finish a project, and it was the quilt shop owner who said "Oh, I know the perfect one!" It was in a section I hadn't thought about, and she was right. That wouldn't have happened online. Most of us are visual and tactile: we want to see it, touch it, compare it to our other selections. This only works in a shop, not on a computer screen.

So go to your local quilt shop this week, look around, buy something, and support this incredible resource that you will certainly miss if it disappears.
---