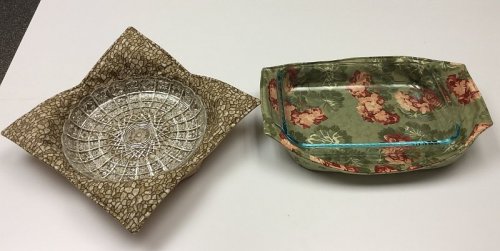 Stop burning your fingers while removing hot bowls from the microwave!

This reversible Bowl Cozy can be made in four sizes, 10 inch, 12 inch, 15 inch or 17.5 inch. The instructions will be provided for all four bowls. You can decide which size bowl you will make in class. It is important that your fabric, thread and batting are 100% cotton so it is safe to go into the microwave.
The casserole cozy makes a beautiful presentation on your table. Just place the casserole dish in the cozy after it comes out of the oven to make it safe and easy to carry to the table.

The class is designed to make a bowl cozy, size of your choice, or a casserole cozy. If you are an experienced quilter, you may be able to finish both cozies in class. The fabric and batting must be cut to the appropriate size before class for either project. The supply list and cutting instructions will be provided upon class registration.